Above: Founder and head instructor Samantha Farr (top row, center) started the program with two participants in 2014, which grew into sessions that trained about 200 women during 2019.
Women Who Weld organization teaches skills that give participants access to a male-dominated profession
October 2019 - The U.S. Bureau of Labor Statistics projects welder employment will grow 6 percent from 2016 to 2026, which makes welding one of the fastest-growing professions in the country. Despite this anticipated growth rate, only about 4 percent of welders in the United States are women—that's four percent.
Samantha Farr, who grew up surrounded by the manufacturing industry in Detroit, left the area and entered the business development technology sector after college. "But I always held an interest in welding," she says.
In 2013, Farr returned home to Detroit and earned a master's degree in urban planning from the University of Michigan. "It was during my master's studies that I had access to the architectural department's welding and fabrication lab," she recalls.
As Farr practiced her skills as a welder, one thing struck her throughout her university studies: "I was often the only woman in the fabrication lab," she says. "I initiated an independent study course that combined urban planning, design and fabrication studies. I fell in love with welding!"
Women Who Weld boasts a 100 percent completion rate among participants and a 100 percent program-to-employment rate.
Women Who Weld
In 2014, Farr established Women Who Weld, a nonprofit organization that offers intensive and introductory welding training programs designed to prepare women for full-time jobs, apprenticeships or continuing education opportunities in the welding industry.
"I merged my background in business development with my interests in economic, community and workforce development and Women Who Weld was born," Farr explains.
"The goal of the program, and what continues to inspire me, is for participants—namely those who are unemployed or underemployed—to achieve economic stability and improve their mobility through welding," she says.
That's in addition to WWW's big-picture-goals of reducing a gender imbalance in skilled labor, strengthening the workforce and improving the economic standing of interrelated businesses and industries throughout Detroit and across the United States.
Although potential participants express interest and excitement, Farr experienced an uphill battle garnering the funding necessary to maintain an intensive training program. "Funding, equipment and space were major challenges then; funding continues to be a major challenge now," she says.
For a brief period, a few years after starting the program, Farr lost access to the facility and machines she had been using but Fronius USA LLC stepped in "and eliminated our most pressing equipment challenge overnight by donating machines to Women Who Weld." These include the TransSteel 2200, AccuPocket and MagicWave 230i. "All of [the machines] perform well under heavy usage."
Ongoing progress
Women Who Weld boasts a 100 percent completion rate among participants and a 100 percent program-to-employment rate. The program started with two participants in 2014; by 2019 it grew into sessions, which train about 200 women a year.
Because securing financing is challenging, Farr says, "We continue to raise awareness and work toward any monetary support for programming from industry, which would have a tremendous impact on our ability to continue to train and introduce skilled, talented welders to the industry," Farr says.
The education goes beyond skillfully holding a torch. The organization also emphasizes such soft skills as resume writing and interview preparation. "We provide participants with information on educational opportunities in welding technology or welding engineering and, when we can, we make introductions between our participants and a network of hiring employers," Farr says.
Farr's efforts are paying off for numerous graduates. "We keep in touch with all past Women Who Weld participants," she says. Graduates check in regularly to keep Farr updated on their progress.
Sarah Cavalieri completed the organization's fully subsidized, six-week intensive training program in 2018. She previously worked for an estate sale company and is an artist. "This was just the last of many random jobs and so many years in the food and bar industry," says Cavalieri. She had some exposure to welding in the past, "but I didn't have enough access to the tools and materials to get anywhere with it.
"I had been dreaming of a new career path involving a skill set that allowed me to use my hands," she continues. "So when a friend of mine who was applying to the program told me about Women Who Weld, I applied right away."
Cavalieri excelled in the training and, upon completion, she was hired as a welder/fabricator at Airtec Corp., a custom fabrication company in Detroit. She recently joined Ferrous Wolf, where she fabricates/welds custom metal decks and porches, railings and staircases, shelving, metal storage containers, and other custom and industrial fabrication projects.
"I love how versatile metalworking is," Cavalieri says. "There are so many types of jobs, from working on a production line, to building bridges and skyscrapers, and there's furniture and sculpture, which I'd like to get more into eventually."
When she began working at her first shop after completing the program, Cavalieri was the only woman out of 20 production workers. "I feel like I'm part of an important movement toward equality [in the workplace], and I always think about this whenever I get frustrated at work," she says.
Word of mouth
Before Bailey Steele completed Women Who Weld's partially subsidized, week-long intensive welding training class during the summer of 2018, she was working at a fast food restaurant.
"I like to build things and I've been told I have a mechanical mind. I heard about Women Who Weld from a woman who took the class. She gave me the information and I signed up," Steele says.
Steele was immersed into welding skills from day one. "We got to try out everything," she says. "We welded, did grinding and measured while in the shop. So I felt prepared to go into my first welding job."
Morrison Industries, a steel packaging company, hired Steele, where she went on to become Employee of the Month. She was recently accepted into the Iron Workers Local 25 apprenticeship training program and now works at the Fiat Chrysler Automobiles plant.
"My favorite thing about welding is when I put my hood down, everything around me fades out and it's just me and the weld I'm laying," she says. "My biggest goal right now is to work on the new bridge [from the U.S.] to Canada. I'd also like to become an underwater welder."
At least three other women also weld at the plant where Steele works, but she believes the automaker wants to hire additional female welders. Working on a shop floor with men is not without some challenges. "Some of the guys make rude comments or they underestimate my strength," she says. "But I make sure to prove myself as a hard worker."
Tap into industry
Farr frequently meets with businesses to learn about the types of jobs that are in demand on a local and national level.
"After collecting information and learning about specific workforce needs, we decided a few years ago to focus even more on welding [technique], metallurgy and the welding gases our participants are working with, so they have a full understanding and can walk into a shop confidently," Farr says. "It is important to train our participants to weld all joints in all positions so that they are prepared for any scenario."
Graduates of the intensive training programs learn the skills needed to go beyond obtaining a job and "to excel as fast or faster than their colleagues; to earn a promotion a few months into the job; lead a project or team; test into and advance through an apprenticeship training program; or to go on to pursue welding engineering," Farr says.
Farr frequently meets with businesses to learn about the types of jobs that are in demand on a local and national level.
Solid results
Women Who Weld helps to enrich the fabrication industry. Farr regularly receives positive feedback from companies hiring the program's graduates.
Laura Hopson, a human resources/accounting representative at Morrison Industries, says, "I am very pleased not only with the quality of work from our employees who graduated from the Women Who Weld program, but I am also pleased about the quality of each person." The team members who have come to Morrison from this program, says Hopson, "have demonstrated integrity, teamwork and a strong work ethic. They have all been an integral part of our core team, and I look forward to hiring more from the Women Who Weld program in the future."
Matt Rajda, training coordinator for Ironworkers Local 25, appreciates Women Who Weld's role in helping the union local "integrate more women into the ironworking trade. One apprentice just went to work [at Fiat Chrysler] and I have heard great things from other employers] about the other two WWW apprentices in Local 25."
A small fabrication shop owner in Detroit told Farr: "If the first two Women Who Weld graduates we hired are an indication of the success of your program, you are on the right path. It is critical that people understand the backbone of manufacturing in the United States is small businesses like ourselves, where people get a start and hone the fundamentals in preparation for their next career move, even [as] it's helping us get to the next level."
Expansion plans
What started as a one-woman endeavor continues to expand. Farr has looped in her husband, Corey Ciotti, who has a background in developing and growing startups, to co-manage back-end needs to help the program run smoothly.
Farr continues to expand her reach as more participants enroll. "We have a wait list of over 500 women right now," she says.
Corporate sponsorships are integral to the program's expansion efforts so Farr and Ciotti continually communicate with companies that engage directly in welding, and those that do so indirectly, to remind them how essential welding is to their business and industrywide.
"We actually had a large automotive company question how important welding is to their business—welding is a key factor to fabricating vehicles! So is a well-rounded workforce," Ciotti says.
In order to change company culture, leadership must examine how corporate policies make work environments difficult for women to break into and succeed. "We hear about how it's difficult to find reliable workers, how companies can't find people to simply show up," says Farr. "That's true to an extent, but often they're not looking inward, at what they can do as a company to be inviting and welcoming."
She encourages business owners to implement policies "designed to address and shut down gender discrimination and sexual harassment so that women and men can weld and work comfortably [together]," she continues. "There's a lot of outward blame for the labor shortage but maybe there's more to it than a lack of talent."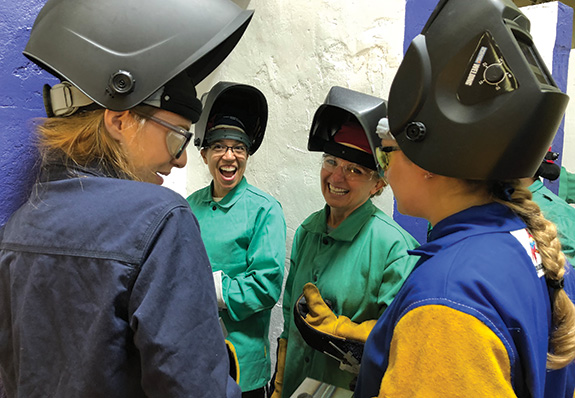 Serious business
Women Who Weld stands alone, "as far as nonprofits doing what we do, to the extent that we do," Farr says. "Our program goes beyond a hobbyist or artistic or even introductory type course. We equip our participants with skills that allow them to create a new, sustainable pathway for themselves."
A 100 percent completion rate is a high bar to reach, but Women Who Weld continues to place graduates in good positions across industries. Women who otherwise had no career path, or were unhappy in their current situation, now have multiple paths to choose from.
"I would like to tell women who are thinking of becoming welders that it really is a fun job," Steele says. "You're active and constantly doing something new—and there's nothing like laying down a good weld and feeling proud of yourself." FFJ