Above: Metamation's MetaCam software has built-in optimization for automation such as chute drop and part removal systems.
Software developments take punching machines to places that fiber lasers cannot go
September 2019 - In the 1960s, job shops saw the introduction of the numerically controlled 2-axis punching machine. It was built to pass material between a pair of tool turrets for operations like making holes. In recent years, the high-speed fiber laser has risen in popularity for metal cutting, but punching technology has also evolved. Software developments are redefining flexibility for machine shops, supporting smart factory operations and attracting a younger workforce.
"We are talking about making smart use of the things a punch can do in sheet metal fabrication in terms of software and programming," says Gary Carnall, EMEA regional manager for Metamation. The Hoffman Estates, Illinois-based CAD/CAM specialist's MetaCam software works with bending, punching, laser cutting and nesting functions, among others. "If you are cutting a standard profile and you have the right tools, a punch can do the job faster than a laser. Where the punch tends to leave a laser behind is when it comes to forming sheet metal."
"Traditionally, a punch has been associated with just tooling," says Metamation Vice President Anupam Chakraborty. "If you have parts such as louvers for ventilation systems, mounting brackets or CPU boxes, you have a lot more bending and folding requirements. This is where the value of a punch comes in, to bend, fold or emboss sheet metal."
Trending
But all of that begins with software, Chakraborty notes. MetaCam's feature recognition capability allows a programmer to retain the intelligence of a 3D part model once it is converted to 2D, prior to sending the part profile to the punch. Users can design a part from scratch or import CAD files for processing. The software's intelligent CAD engine works with special sheet metal primitives, layers, bend lines and forming geometry to prepare for processing. geometry. It allows a programmer to fix drawings or make revisions without having to go back to the designer.
"Because MetaCam can read 3D features correctly, once a design is converted to 2D, there is no further cleanup required," notes Chakraborty.
"One of the trends we see in the punching industry is the growth of specialized tooling," adds Carnall. "Punch and laser combinations are also on the rise. Shops are using a punch to process shapes, then laser cutting parts. MetaCam has the ability to identify these tools with its feature recognition capability. Further, we can train the software to recognize specialty tooling so that the punch automatically knows what tool to use. The software does the heavy lifting."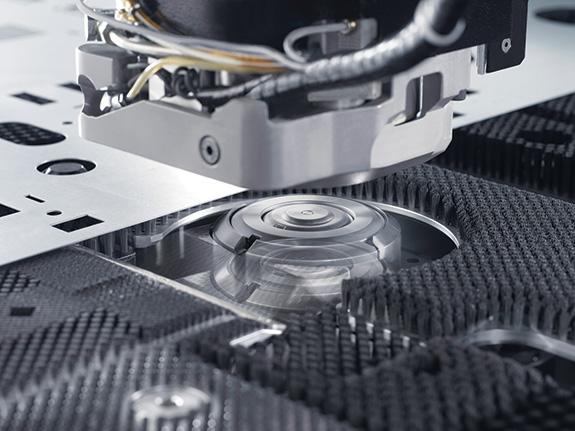 Form tool geometry can be trained to help drive more automation in the programming process.
Cluster tools represent one niche that is gathering steam. "The fabricator can punch in one pass with this tool and increase throughput," Carnall continues. "In situations where the cluster tool isn't appropriate, individual punches can be made, but it's all done automatically."
Standard, synchronized, forming and custom tools can be created, maintained and linked with the MetaCam Tool Library. The user can drag and drop tools to graphical turrets—true representations of the actual machine turret. Multiple turrets can be stored and color-coded for easy operation. The auto tooler assigns suitable tooling based on the 3D model to generate a collision-free bend sequence.
Accessing usage data
For manufacturers that have a lot of tools, MetaCam's tool library has another handy feature. The punch may only hold 30 tools, but they can load the rest of their inventory in the library. The operator can look up the tools and pull up data on usage. The information allows a manufacturer to get rid of tools they don't need and streamline production.
This is especially useful for companies that produce small batches frequently. Standardized turrets can help a fabricator make better business decisions. The software shaves minutes off jobs because the operator isn't spending time changing tools manually.
"Automation flexibility is what it's about," says Carnall. "Young engineers have always been fascinated by design, and the technology has advanced to the point where you can integrate the design, create the part, perform nesting production scheduling, then get feedback to determine if there are any issues."
Standard, synced, forming and custom tools can be created, maintained and synchronized using the MetaCam Tool Library.
The multi-disciplinary nature of the software means that a programmer can also provide input for part design improvements. "That is very attractive to a younger workforce, particularly millennials," says Carnall. "There is interaction between CAD, the machine, its tooling and a fabricator's ERP system, and it's all in the cloud."
Metamation believes its ability to design, develop and deliver products all under its own roof ensures that users gain a better experience.
"I've observed with job shop startups in particular, that the last thing an owner needs is to learn new software," Chakraborty says. "With MetaCam, they are able to turn programming time around quickly because of our short learning curve."
Metamation sees the path for punching machines continuing to evolve, bolstered by service support and further R&D. The company uses an idea exchange forum track the latest trends. FFJ