BARTON International
Company Profile
BARTON International is a family-owned company that has been producing the world's highest-quality garnet abrasives for seven generations. Available in varying levels of performance and value to meet a wide variety of applications, we produce abrasives developed specifically for waterjet cutting. Our brands include ADIRONDACK® HPX® — the hardest and sharpest garnet in the world; ALLTEK® HPA® — the waterjet workhorse made from top-quality alluvial garnet; and ECOTEK® — general-purpose abrasives. Our waterjet abrasives cut everything from thick steel, titanium, or stone to thin, delicate materials. Whatever your industry, there is a BARTON® waterjet abrasive that performs with the speed, edge quality and surface finish you need.
BARTON is a one-stop source for your waterjet cutting operation. We carry a wide selection of genuine OEM and aftermarket waterjet parts stocked for immediate shipping from our east and west coast warehouses. Shop online at store.barton.com
All BARTON products are manufactured under tight Quality Assurance controls and are guaranteed to meet our high standards.
HIGH-PERFORMANCE WATERJET ABRASIVES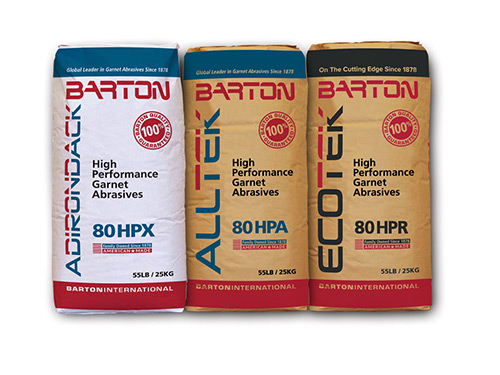 Found only in the Adirondack Mountains, world-renowned HPX garnet retains an ever-sharp crystalline structure which makes it the world standard. It is the industry's premier product for the most demanding waterjet cutting applications.
Made from top-quality alluvial garnet globally sourced and processed to our industry-leading standards, HPA® garnet abrasives provide excellent cutting and surface quality.
Engineered to balance cutting consistency with operating cost, ECOTEK general-purpose waterjet abrasives deliver reliable cutting power and edge quality at a value price.
We carry a wide selection of genuine OEM and aftermarket waterjet parts for Flow, H2O Jet, Jet Edge, KMT and Omax – stocked for immediate shipping from our east and west coast warehouses. Shop 24/7 at store.barton.com