Savage Saws
Company Profile
Savage Saws™ are known for cutting the world's most high performance, difficult to cut alloys. Servicing the aerospace, automotive, super alloy, and specialty material markets, Savage Saws™ provides precise and repeatable cut quality, in a lean manufacturing capable package. Each saw is built and supported by Thermatool, a leading supplier of flying cut-off saws and shears to the tube and pipe industry. Backed by Thermatool's quality and Inductotherm Group's global network of resources, Savage Saws serves the most demanding industries.
Featured Product: Savage Guillotine Saws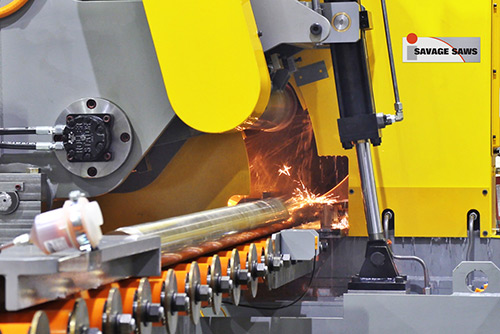 Savage Saws Are Your Best Solution for cutting specialty alloys, titanium, stainless steel, hardened bars, shapes, and plates in a high-performance environment. Each Savage Saw precision cutting machine is designed for shortest cycle times, while cutting the world's most difficult alloys.
Robust material handling and proprietary spindle design positions Savage Saws on the cutting edge of fast, precise performance. In lean manufacturing environments, Savage Saws serve highly automated industries - including aerospace, automotive, structural and super alloy markets.