May 2006 - One of cable TV's rising stars, American Chopper, highlights the adventures of Orange County Choppers and has opened a window into manufacturing and metal fabrication for its audience.
Where most TV viewers wouldn't know the difference between a welding machine and a tube bender, this show demonstrates how equipment works by taking basic materials, like aluminum or steel, and producing a finished product. The product just happens to be a custom chopper motorcycle that ranges in price from $40,000 to whatever the new owner can afford.
OCC owner, Paul Teutul Sr., uses metal to create his artistic motor­cycles and has been working with it all his life, starting out as an employee and then owner of a metal fabricating business.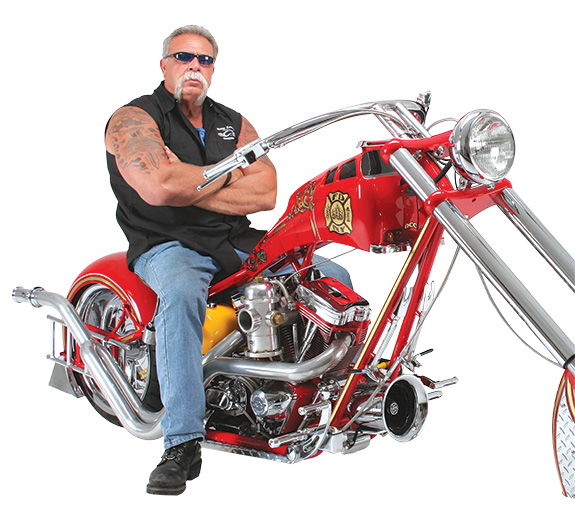 Humble beginnings
Back in 1972, Teutul began work­ing with his brother-in-law, producing metal fabrications at his welding shop. "I worked for him for about nine months before he went out of business. A few years later, I started up a welding business called Iron­works with another partner. We had a pickup truck with a portable welder to do metal fabrication work primarily for commercial and residential builders. I did a lot of wrought iron work for houses," Teutul says.
During the 1970s, 1980s and 1990s, the company slowly expanded and was also fabricating custom, one-off parts for motorcycles. This work was only a small part of the business but something that Teutul enjoyed doing.
Teutul's first motorcycle was a 1971 Triumph Bonneville follow­ed by a Harley Davidson Super Glide that he still owns.
Teutul's sons, Dan, Paul Jr. and Michael (Mikey) also got into the metal fabricating business. Then the motorcycle bug really started biting. So in 1999, Teutul moved the custom motorcycle that had started out as a hobby in the basement of his home to a small area in one of his Orange County Ironworks' buildings. "I figured I could build about three bikes per year," Teutul states. The business expanded from there.
He then moved it into its own building and sold the Ironworks business to his son Dan, who is still doing metal fabrication.
It was Iron­works' success that allowed Teutul to pursue his passion for building motorcycles in his downtime. In 1999, he recruited Paul Jr. to become the chief fabricator and designer for the new enterprise, and OCC jumped on the chopper-building craze at the Daytona Biketoberfest with "True Blue," a classic chopper.
From Left: Paul Jr., Paul Sr., and Michael (Mikey) Teutul
Cable TV magic
About the same time as the Discovery Channel changed its format to concentrate on unique TV offerings, such as how Jesse James builds custom motorcycles in Long Beach, Calif., a California-based TV producer was looking for an East Coast motorcycle builder for a show. By searching the Internet, Teutul says that the producer came across his then two-employee company, and a deal was struck to feature OCC on American Chopper in 2001.
"But it almost didn't happen," notes Teutul. Another member of the TV production team tried to get his friend's bike-building company in on the act. After some last-minute wrangling, the show was saved with OCC as the star.
American Chopper focuses on building custom, one-off chopper motorcycles. Companies such as Miller Electric Mfg. Co., Snap-On Tools and celebrities like Jay Leno have had bikes built on the show, and a variety of the TV-show-built bikes are owned by OCC and are part of a collection that tours throughout the world.
Teutul says, "The bikes are stars themselves, taking on their own persona. They will be part of an OCC museum once our new building is done." Today, many are on display at OCC's retail center just outside of Montgomery, N.Y., and about a mile from OCC's headquarters.
What can TV do? As Teutul notes, OCC has gone from two employees to now having about 60 in a little more than six years. It is expanding from a 30,000-sq.-ft. building that has a large gymnasium, basketball court and photo studio, to a 100,000-sq.-ft. space with production increasing to an estimated 220 motorcycles per year.
In the past, most of the choppers were made of components that were bought off-the-shelf and then customized using steel, stainless steel or aluminum fabricated parts. Now, most of the parts are made in-house, says Teutul.
Teutul has to have a strong hand in the company with growth like this, and not without interesting run-ins with his sons, Paul Jr. and Mikey, the youngest who is now building chop­pers, too. The expanding workforce at OCC frequently witnesses Teutul's temper outbursts, flying projectiles and other humorous mishaps, like exploding coffee cups and a good dose of profanity.
Each show takes roughly 100 hours of camera time that is edited down to a one-hour show. Teutel says, "TV has brought manufacturing into the living rooms of America. Now everyone can see what processes it takes to build a product, and in my case, it's a product that most people think is really cool."
TV fame might seem instant and in some ways it is, especially when the show has high viewership. But there is a lot of work behind putting together a successful business that a camera never sees, such as the daily bike building for customers and promoting the business. The crew at OCC put in a lot of hours to keep the business running smoothly.
Choppers begin life as a purchased frame and then are completed in this shop area.
Tools of the trade
To build custom choppers, OCC uses many of the same tools of the trade as fabricators, such as press brakes, metal shears, plasma cutters, iron workers, English wheels, air hammers, welders, an Ercolina tube bender, tube swedger and even a Flow waterjet cutter, along with a full cross section of hand tools.
Tube bending is a very important process in building a chopper. Just about every bike has a unique set of exhausts. To bend them, OCC uses an Ercolina mandrel-style, tube-bending machine to get matched bends for the exhaust pipes that are made from 1 3⁄4-in. tubing with a wall thickness of 0.065 in. A mandrel bender produces smooth bends without metal ripples on the tube's walls. Tubes are bent to shape and are usually finished in chrome.
An OCC custom chopper being completed.
Why waterjet
To do some of his cutting work, Teutel uses saws, plasma torches and cut-off wheels, but he has also chosen to go with a Flow waterjet that was purchased in 2004.
Teutul says, "We looked at lasers, but they are limited in what they can do and the metal thickness they can cut. Also, the heat generated from the beam can distort metal and harden the edge. With the waterjet, we can cut glass, ceramic, stone, steel, aluminum—just about anything."
Also influencing the decision was the waterjet's ability to cut thick materials. "At the time we contracted for the waterjet, a laser's thickness capacity was only about 1⁄4 in.," he continues. "A laser's thickness limitation was a more important consideration than, say, its consumables and maintenance costs."
OCC has cut metal plate up to 4-in. thick on its waterjet, but the thick­­-est part it can cut is 12 in. of steel, notes Teutul.
Jim Quinn, lead engineer, says that a routine part OCC does—a clutch control lever that is operated from a motorcycle's handle bars—is first cut out of aluminum plate, and then finally shaped on a vertical machining center (VMC). "By doing it this way, it cuts down the amount of time needed in the VMC. Also, I'm able to put two round ends on the part with holes in them that are used to fixture the part in the VMC, because this part can't be held in a vise. Later we just cut the round ends off."
Building choppers
Each OCC chopper is an artistic creation; no two are identical. Each frame is designed and built for the customer's needs and comfort, if ordered that way. Front wheel rake angles, frame lengths and heights are some of the dimensions that will vary from bike to bike.
Teutul says OCC is best noted for its unique and unusual theme bikes. He adds that bikes aren't built for stocking purposes. They are all built to order, averaging 20 to 25 weeks for a normal build cycle, and can be built to a customer's specifications at extra cost. Buyers can give Teutul suggestions for the paint and style of the bike. They have a choice to pick from a select set of frames, or a frame can be built to their specifications at extra cost. A custom frame is built around the owner's body and can be high, low or long, and have different fork rake angles for the front wheel.
The custom paint jobs that really set an OCC chopper apart from others are done by Nub from Nub Grafix. A paint job usually takes several days.
In 2005, OCC sold about 100 bikes at an average price of about $55,000. Bikes start at $40,000, and the highest price for a theme bike sold to date is $350,000.
These partially completed choppers are waiting for more parts.
Building everything except tires
Customers will soon be able to build their own OCC bike from a catalog of parts. By the end of 2006, Teutel plans to start manufacturing standard and custom components for motorcycles, such as handlebars, fenders, frames and even engines. He would like to produce just about everything except tires. Currently, OCC does produce custom wheel rims for bikes as a standard product. To produce the chopper's tubular frames, the company has developed a precision jig manufactured in their shop. The jig can easily and precisely position the tubing and change the length and height of the frame along with the rake angle of the front fork.
Teutul has even talked about purchasing a unique manufacturing technology similar to hydroforming that expands metal to produce gas tanks and exhaust systems.
Star status
Today, the Teutuls seem to be all over the television landscape with appea­rances on Leno's Tonight Show and The Late Show with David Letterman. Their humorous product commercials, with Mikey as the fall guy, are also in demand.
With its instant success, OCC has expanded its operation with a sizable amount of licensed products for people to remember the show's main actors–Teutul and his sons. There's even a T-shirt available that states, "Mikey for President," along with OCC guitars, children's lunch boxes and, of course, coffee mugs, to name just a few. FFJ