ARKU
Company Profile
ARKU, founded in 1928, is a world leader in roller levelers and press feeding technology with the world's most extensive range of high-capacity and precision levelers, with 50 years of expertise in the field. The company also offers innovative deburring and edge rounding technology. These processes include deburring, deslagging, edge rounding, surface finishing and oxide removal. The machine solutions include single and double-sided processing capabilities. With its headquarters in Baden-Baden, Germany, and ISO-certified facilities in Kunshan (China) and Cincinnati (USA), the business operates in almost 30 countries worldwide. The product range comprises precision levelers, deburring and edge rounding machines, cut-to-length and slitting lines, press feeding units, press feeding lines and coil preparation lines for roll formers. As well as robot material handling solutions. ARKU provides engineering expertise to many manufacturing industries, including automotive, railroad equipment, shipbuilding, construction and furniture, as well as plasma/oxyfuel, laser job shops and much more.
Corporate Video
Featured Product: The EdgeBreaker® 4000
Whether oxyfuel and plasma-cut parts/plates: the EdgeBreaker® 4000 can even handle burrs more than three millimeters (.012 inches) thick. Using an oscillating grinding drum, the deburring and edge rounding machine quickly and reliably removes burrs and slag from laser-cut, plasma-cut and oxyfuel-cut parts up to 100 mm (4 inches) thick – even with large volumes. For optimum edge processing: sanding blocks round the edges on both sides.
- Edge rounding and deburring on both sides for materials up to 100 mm (4 in.) thick
- Lower costs due to reduced tool wear
- Broad material spectrum: steel, titanium, stainless steel, copper and more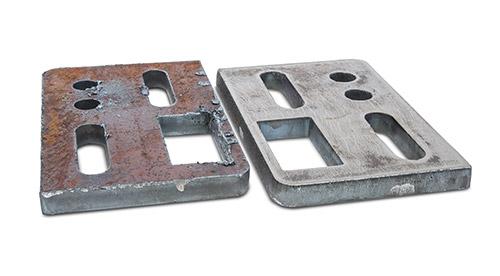 Check out the entire lineup of our deburring machines here.