Cincinnati Incorporated
Company Profile
We are one of a handful of U.S.-based, build-to-order machine tool manufacturers, and have shipped more than 50,000 machines in over a 100 years of operation. From our modern 500,000-square-foot plant and technical center on an 80 acre campus near Cincinnati, Ohio, we engineer and build our Laser Cutting Systems, Automation, Press Brakes, Shears, Powdered Metal Presses, and Additive Manufacturing, to the standard of ruggedness required in the North American market.We continue to demonstrate a young outlook and willingness to embrace new ideas and technology – while staying true to our heritage.
Featured Product: CL-980 fiber laser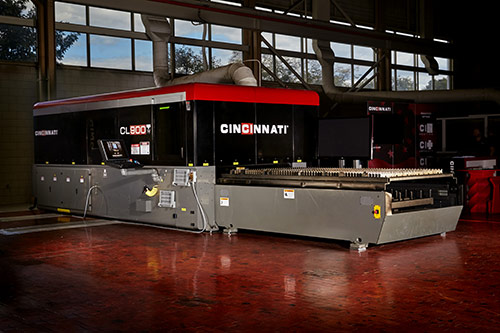 The CL-980 is an 8kW fiber laser system power by an nLIGHT power source. It features a fast 12,000 ipm linear drive system, touch screen HMI control, Fibercut 2D head, process monitoring, optional nozzle changer and ball transfer load station and is compatible for automation.