People pay Mike Kleeves a lot of money to rebuild classic cars from a bygone era
July 2017 - You won't find a dedicated website for Mike Kleeves—yet, people with very particular demands can find him if they ask around. In the unassuming town of Kimball, Michigan, Kleeves' shop, Automobile Metal Shaping (AMS), builds classic cars worth millions. His team painstakingly fabricates new parts or complete bodies using the time-worn, often painstaking, techniques used during the era the original dream machines were built.
Unlike building a hot rod, recreating classic cars involves meticulous attention to the original fabricating methods used, as was the case for the Porsche 550A Spyder project featured on FFJournal.net. "We had to make the welds in the same locations using the same methods used in those days, which often means we have to make the tooling from scratch," Kleeves says. "There's a big difference between building a new body for a very valuable early car versus a free-form or hot rod."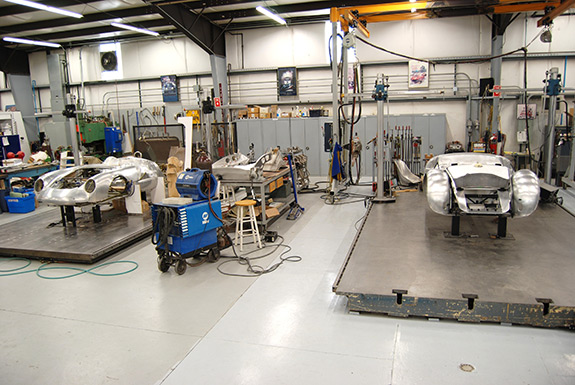 Only 40 Porsche Spyders were built during 1956 and 1957. Kleeves was tasked with rebuilding the original bodies for two of them, which were irreparably damaged from racing. He used 0.05-in.-thick 3003 H14 aluminum and shaped the body panels on Pettingell power hammers.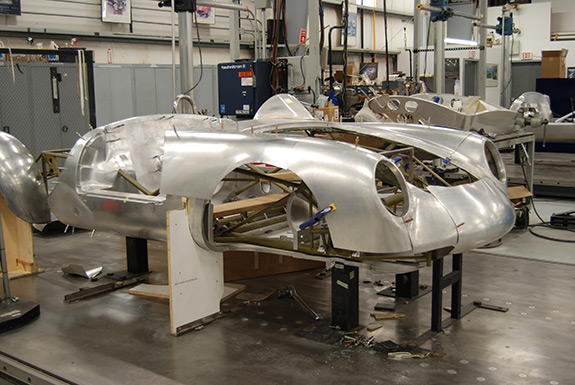 Kleeves gas-welded the panels with a torch like its predecessor models. "There are certain rules you have to follow in shaping a panel or you will not get a good part," he says.
Test of time
Other projects follow the same parameters as the Porsche Spyder rebuild process. In the case of Jean Bugatti's 1939 Type 64 Coupe, Kleeves' team received a CAD file of the design and Kleeves went to work building the maquette from mahogany first, then following it with an aluminum body using the mahogany model as a check fixture.
Only one Type 64 Coupe was built with completed bodywork before car designer Jean Bugatti died during a Type 57 road test. It became Mike Kleeves' job to pick up where Bugatti left off.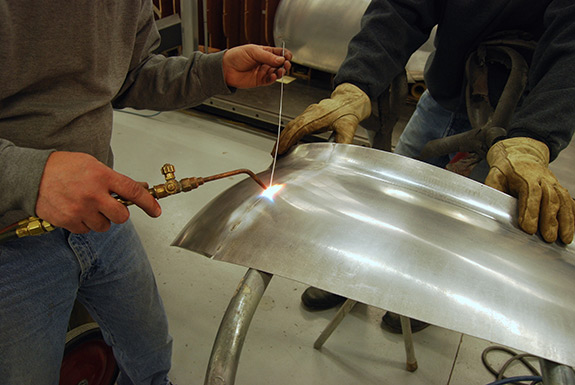 Kleeves uses the same coach-building methods that were prevalent in 1939 Germany, where the Bugatti factory operated. As horse-drawn stage coach builders became obsolete, designers either adapted to the change or went out of business. The Bugatti's coach presented weight challenges as Kleeves had to figure out how to keep the body strong but lightweight. "[We had to] be able to lift the body as a complete unit," he says.
Kleeves manufactured the Bugatti's body with 0.062-in.-thick grade 3003 aluminum, and made the fenders with 0.05-in.-thick sheet in the same grade. Other structural areas required 0.08-in.-thick grade 5052 aluminum. Equipment used included Pullmax machines, Marchant shrinker-stretcher, Erco flanging machine, and air hammers, among others.
With the body complete, Kleeves' team paid close attention to the swing points for the door hinge patterns, making test pieces to ensure the hinges worked properly and fit in the space. "The hinges were first made in wood and these were used as patterns to cast the aluminum hinges," he says. "The client did not want latches off the shelf, so we fabricated all of the hood and door latching."
As would be in 1939, the bolts for the car measured 7-, 9-, and 11-mm. "We had to stay true to the way Jean Bugatti would have done it," Kleeves says. "These are special bolts with an integrated washer built into the bolt with a square head made using conventional and CNC machining methods."
Close fit
Using Pettingell power hammers, AMS shaped each piece of the body skin and fit them to the full-size wood model. Each part is first made from paper and then transferred to aluminum sheet. "After the parts are shaped, fit and trimmed by hand, they are gas welded together." Kleeves switched from oxygen-acetylene to oxygen-hydrogen for a cleaner process. Each welded panel was completed to ensure the seams would not show.
Such careful consideration to integrity means a full car build can take anywhere from 4,000 to 8,000 hours to complete. "The Bugatti took a little over 5,000 hours, including the [full-size model made from mahogany] and completing the entire build," Kleeves says. "All of the builds are done on surface places equipped with CMM measuring."
Gas welding is preferable to TIG welding, says Kleeves. "Gas welding aluminum is used for welding fuel tanks for race cars and is used in the aircraft industry," he says, explaining, "because the weld is more ductile than with TIG welding and it is less likely to crack from vibration."
Handmade
The team at AMS recently built a 1932 Lincoln KB. The body framing is made from ash and will be covered in aluminum shaped on the power hammer. "There is a large amount of handwork in any of these projects and the goal is always to be as efficient as possible," Kleeves says. "We do use power equipment as much as possible because it saves time."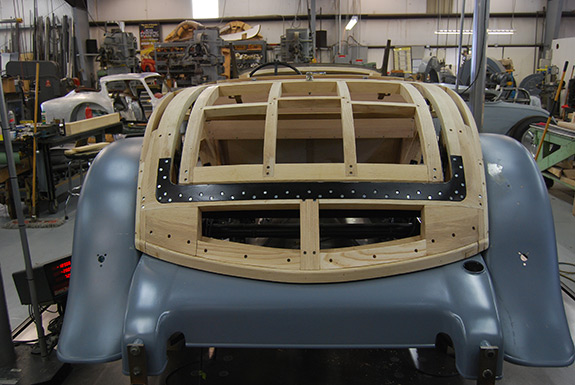 Bringing cars back from forgone eras is Kleeves' specialty as was the case with a B32 Lincoln Mercury pace car used in the Indy 500. "The framing to support that car is all wood," he explains. "Once we had built that, we hammered aluminum skins to the body just as it would have been back in 1932."
Among the tools needed to resurrect these cars, a forging hammer has proved worthwhile. "We make our own tooling, including hammers and forged parts for cars," says Kleeves. "Our clients are always fascinated to see the difference between a machine bracket or something that was welded together versus something forged—we don't take shortcuts with modern methods. We continue to make our process better by improving how we approach projects given the tools and methods we are limited to.
"The best part is figuring out the challenging parts," he adds.
Kleeves' commissions span the first half of the 20th century. The team is working on an early Ferrari. "It has an aluminum body so we will use the same process that is used for building other bodies," he explains. AMS has a forge and forging hammer to fabricate the heavier steel brackets used on the Ferrari. "We also use the forging hammer to make some of the tools such as the special hammers and spoons."
Building a reputation
Kleeves wakes up each morning truly enjoying his dream job. "I'm 60 and I still work every day—I love it," he says. "The goal in life is to find out what you're here for and to go on doing it."
Keen attention to detail and astute quality checks have led to Kleeves' sterling reputation. "The cars that come to me have made it 50 to 60 years," Kleeves says. "Once I'm through with them, they'll outlive me, that's for sure."
His team comprises talent from around the world. "My mentors never charged me for their help so I'm paying it forward," he says. "Every employee I have in this shop has found me. They have that passion. I'm very fortunate—I've never had to take out a help wanted ad." FFJ