Prudential Stainless & Alloys, L.P.
Company Profile
Prudential Stainless & Alloys, L.P. is the pipe, tube and bar source where Uncommon Items are Common. Central to Prudential is our two pronged core philosophy; sell only to distributors and maintain one of the largest inventories of stainless steel, nickel alloy and aluminum pipe, tube and bar in the industry. Our diverse size range is coupled with a wide variety of hard to locate grades and alloys. The inventory is constantly updating and expanding to offer a larger variety of items whether it is drawn or extruded, seamless or welded. Prudential is not just about rounds, we also stock rectangular and square aluminum tube.
Founded in 1948 as a distributor of reconditioned World War II surplus fittings, the company diversified into stainless steel pipe as the war surplus business dried up. For close to 70 years, Prudential has added stainless tubing, nickel alloy pipe and tube, aluminum pipe and tube as well as stainless and nickel bar to its inventory. It was not long for Prudential to find its niche: odd-ball sizes and hard–to-locate grades kept in stock for immediate shipment.
Don't need a full length? No problem, in many cases we can cut it to whatever length you require and securely package it for safe transport so you only buy what your customer requires. Need to expedite the time to get the order to your customer? No problem that is our specialty. Prudential can blind ship in your name to your customer, including all paperwork and labels, so they remain your customer. In fact, 48 percent of all our shipments ship directly to our customer's customer.
Please give our experienced sales team a call or email; we are waiting to hear from you!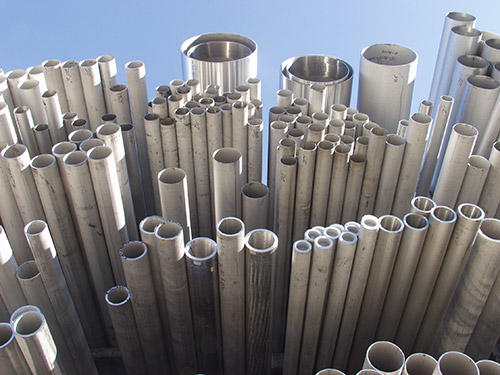 STAINLESS STEEL:
304, 304/L, 304/H, 316, 316/L, 309s, 310s, 321, 347, 347/H, 317L, 410, 440C, 446, 2205, 254smo, 13-8, 15-5, A286
Pipe and tube sizes:
1/32 in. OD UP TO 36 in.
OD bar sizes:
3/16 in. DIAMETER UP TO 9 in. DIAMETER
NICKEL ALLOYS:
904L, 20, 200/201, 330, 400, 600, 601, 625, 800H, 800H/P, 825, 718, AL6XN, B2/B3, C276 C22, X, K500
Pipe and tube sizes:
1/16 in. OD UP TO 20 in.
OD bar sizes:
1/4 in. DIAMETER UP TO 8 in. DIAMETER
ALUMINUM:
6061-T4, 6061-T6, 6061-T6 HYD, 6061-T6511, 6061-T4, 6061-0, 6063-T6, 5052-0, 5086-H32, 5086-H111, 3003-H14, 3003-H112, 2024-T3, 2024-T3511, 7075-T6, 7075-T6511
Pipe and tube sizes:
1/8 in. OD UP TO 16 in. OD.