Above: Mishimoto let Plebani design two display helmets to attract visitors to its booth at the 2015 Special Equipment Market Association show in Las Vegas.
This story was originally published as a web exclusive and updated for the July/August 2016 Top WebEx issue.
Extreme designs combine with function and fit to create geek-worthy welding hoods
July/August 2016 - Critics called it "eye popping, groundbreaking and unthinkably successful." They were writing about Walt Disney's long-awaited December 2015 release of "Star Wars: The Force Awakens." But they might just as easily have been describing the work of custom car fabricator Eric Plebani, who awakened a force of his own when he began designing and building one-of-a-kind extreme welding helmets in February 2015.
A self-avowed Star Wars fan, Plebani's career path made the jump to light speed when he employed his design and metalworking skills to build himself a welding helmet based on his favorite Star Wars character: Boba Fett, the bounty hunter. His friend snapped a photo of Plebani working in the helmet and posted it on reddit. The photo went viral and ignited a fan base that has been clamoring ever since for welding helmet one-offs.
The radical personal protective gear also caught the attention of New Castle, Delaware-based Mishimoto, which manufactures performance cooling and aftermarket products for the automotive and racing industries.
"I've had a longstanding relationship with Mishimoto due to my involvement in motorsports and racing," says Plebani. "They were looking for ways to create a buzz around their booth space at the 2015 Special Equipment Market Association show held in Las Vegas. So I convinced them to let me design two display helmets that would get visitors' attention." SEMA is a global trade event for automotive specialty products. "As an attendee for nearly 20 years, I knew the show had never seen anything like this."
Plebani also fabricated engine displays for the Mishimoto booth and hand-delivered the helmets under wraps. On opening day, his unconventional creations ignited a social media firestorm and attracted large crowds to the booth.
The consummate craftsman says he wanted to make something nobody had seen before so he pulled the helmet designs from his own "favorites list."
The first piece of protective headgear was fashioned after a TIE fighter from the newest installment of the Star Wars franchise. Plebani used Mishimoto colors for its paint scheme and one of the company's oil coolers as a rebreather. The second helmet was based on the extraterrestrial warrior from the 1987 film "Predator." Plebani used Mishimoto vacuum hoses to create the creature's trademark dreadlocks.
"The feedback was amazing," Plebani recalls. "People were getting their pictures taken with the helmets. And nationality didn't matter—the helmets spoke a language everyone could understand."
Observing the artful protection equipment's crowd appeal, Mishimoto's people also saw an opportunity. "The company has built its business by taking items that are innovative and using a mass production environment to make them available to everyone while keeping the cool factor intact," says Plebani. "The owner, Mike Sullivan, has tremendous vision when it comes to building and scaling a brand and a business. He also knew I wouldn't be able to keep up with demand as a one-man show so we joined forces."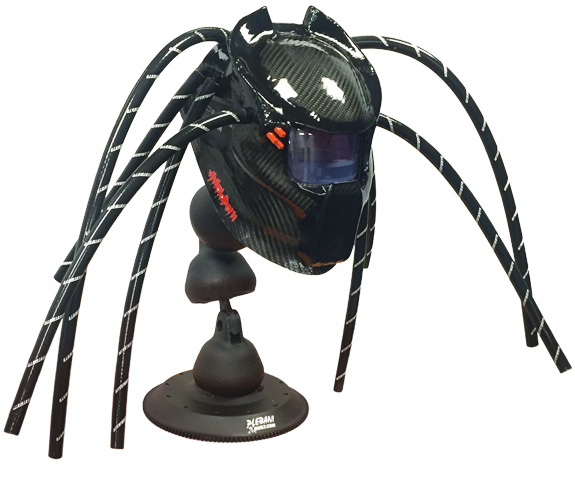 The ever-creative Plebani used Mishimoto vacuum hoses to create the dreadlocks of the extraterrestrial warrior in the 1987 film, Predator.
In Plebani's new role as Mishimoto's director of innovation, he's able to pursue both passions—designer safety gear and custom car work. The self-made mechanic, metal fabricator, tuner and licensed race car driver brings the full complement of his skill sets—honed in the harsh, unforgiving world of racing—to his own workspace at Mishimoto. "I call it the Creation Station," he says. "It's a fantasy factory but my area is where the magic happens."
And Plebani has been busy. This year he completed a design/build for a twin-turbo Viper, a job he says is a record in terms of most man hours he has spent on a custom car build.
"Crazy has tripled, but in a good way," he says. "The trade show solidified the marketability of my helmets proving personal protection doesn't have to be boring to be effective."
Plebani also co-founded a new company called Arkane, and will soon introduce the industry's first modular, customizable safety gear under this brand. With this line, individuals will be able to take a basic helmet shape, choose their character or theme and have it built and shipped to those specifications. "It's a little like the Mr. Potato Head concept," says Plebani.
Customers can build their own helmet at an entry-level price or invest in a custom-designed helmet built by Plebani that is interchangeable with any type of welding operation.
Plebani is also developing the first carbon fiber helmet to fit his new modular platform. He is basing his original design on the Kylo Ren character from "Star Wars: The Force Awakens" but the artistic interpretation will be crafted "for my own personal use."
Fitting into a corporate environment is another first for Plebani who acknowledges he is not your typical 9-to-5 worker bee. "Now that I'm interacting with a team, I know my work style was as much of a shock to them as engaging with other people was to me," he says. "I'm on 24/7. I don't need a drawing or a print to make something. It's all in my head. My hands just do the work. There is no equation. Whether it's the helmet line or the automotive side of the company, I do whatever I see that needs to be done."
Plebani follows a list of virtues penned by founding father Benjamin Franklin, who defined American qualities and values to include determination, self-sufficiency, perseverance, hard work, frugality and reliance on a strong set of ethics.
Eric Plebani completed a design-build for a twin-turbo Viper, spending a record number of man hours on the custom project this year.
Researching and developing original part designs for Mishimoto's automotive business, the ability to apply his unique spin to both the safety gear and the company's aftermarket products gives free rein to Plebani's fertile imagination and his formidable skill sets. He also has access to such tools as CAD software and 3-D printing equipment.
"I can have a functioning prototype within hours," he says. "As a result I am able to put my ideas to the test fairly quickly to see if they are viable. If I don't like how something is working, I can go back and fine tune. I can produce short-run pieces within days. This technology gives me the ability to make anything my head is thinking. If I get an idea at 1 a.m., I can remote access CAD and get to work designing it."
The first one at the office and the last to leave, Plebani's passion has been contagious among co-workers.
"I tell them the investment of time and skill to handcraft or fabricate something requires commitment and common sense. It's also about having pride in the work you do. I've seen the level of care and interest amp up. Their brains are beginning to be rewired to a goal-oriented work approach."
A patriot and staunch supporter of the United States military services, the new gig allows Plebani to take his mission on the home front in a new direction.
"I get a lot of emails from veterans who are using welding as therapy," he says. "A large number of them have special requirements. For example, one veteran needed extra temperature compensation because he had lost the ability to sweat. We have an idea board set up specifically to work on these requests because some of them require development of new approaches in the way a helmet functions. It's one way to give back."
Like building a new house, Plebani is laying a solid foundation and framing it up while paying close attention to the details that matter.
"The wheels in my head have been turning for a long time. I am already thinking about how to do things faster and more efficiently," he says, adding, "This job gives me the tools I need to implement those ideas." FFJ