Above: Batesville Tool & Die retains most tools for 20 years, storing active ones on-site and the bulk of tools that have gone to service off-site.
Having the right supplier can neutralize tooling breakdowns
November 2014 - It sometimes costs a lot of money to get the smallest details right. Batesville Tool & Die has roughly $5 million invested in spares for repairing details or pieces of steel inside a die. The Batesville, Indiana, company uses the Kanban system to stock spares for each job. Dies are continually reviewed to determine the perishable stations [performing die parts] that will be needed.
Yet despite the careful attention Batesville gives its tooling, the company can't stock components for every single die in its inventory. When breakdowns occur, Batesville enters rush mode, rescheduling work to keep presses running. Without missing a beat, Batesville pulls the die out of the press and replaces it with the next scheduled die for that day. Then Batesville's CNC/Machining Manager Toby Walsman, calls Cincinnati, Ohio-based tool steel specialist Diehl Steel.
"They jump on a dime," Walsman says of Diehl. "If I need something right now, we can order it and I'll send someone to get it or it'll be here when I need it. It's like they understand our situation. When we need it they know that we need it."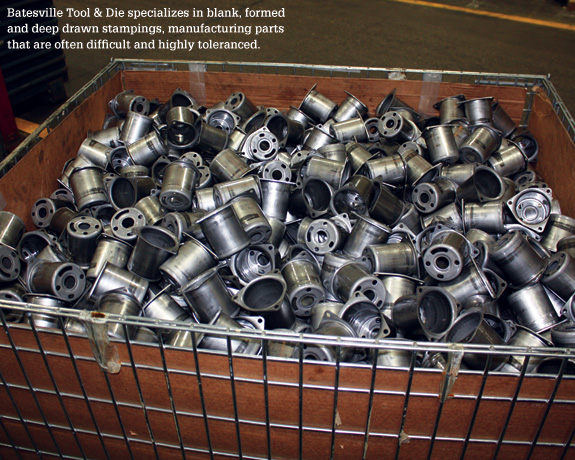 Difficult parts and repairs
Batesville is an automotive stamper, specializing in blanked, formed and deep drawn stampings. With facilities in Indiana and Queretaro, Mexico, Batesville has over 300,000 sq. ft., approximately 450 employees and 55 presses ranging from 50 to 1,200 tons, allowing the company to supply parts around the world. Batesville is a tier one supplier to Honda as well as a tier two and tier three supplier to brands including Toyota, Nissan, General Motors, Chrysler and Ford. It manufactures parts to tight tolerances, which often have several dimensions.
"We go after the parts that nobody else can do," says Dave Lynch, tooling manager. To help tackle difficult parts, Batesville uses CPM REX M-4. The versatile high-speed powder metal provides a unique combination of high-wear resistance with high-impact toughness and transverse bend strength. The powder metal is used in forming sections, trims or awkward or tight clearance areas. "Typically we build the tools with A-2s and D-2s and we'll see where there is a performance problem. We have to figure out what that performance issue is."
Batesville also uses CPM 3V, an air-hardening powder metal tool steel that provides a combination of high-impact toughness and good wear resistance. Used in place of A-2s or S-7s, it provides superior productivity when stamping tougher metals such as stainless or galvanized steel.
CPM, a proprietary crucible particle metallurgy process, was developed and has been used by Crucible Industries since 1970, producing tool steels and high alloy grades that otherwise cannot be produced with conventional steelmaking. Crucible is a key supplier of tool steels to Diehl Steel.
Volume considerations
Volume plays a big part in Batesville 's decision to use CPM, according to Walsman. Lynch concurs, adding, "If we have a volume of 50,000 parts per year versus 500,000 parts per year, more than likely we're going to put CPM on that 500,000 part job. We've taken a piece of D-2 and replaced it with a piece of CPM and got four to five times the life or the uptime compared to a regular piece of D-2."
About 90 percent of the tool steel Batesville Tool & Die purchases is used for repairs. "Obviously not all these details are going to last forever. They're eventually going to wear out and something's going to break or crack or dull,"explains Walsman. "I'm going to do whatever I can to get another piece of steel or get that component built and back on the tool so we can get that running. And that's why it's important for us to have somebody like Diehl." Brian Stirn, OEM buyer at Batesville, says Diehl's turnaround time and quality "is second to none."
"If it's in the press and it's a repair we can't make in the press in a timely fashion, we'll pull the die out," says Lynch. "Toby (Walsman) will have a piece of tool steel expressed from Diehl Steel and meanwhile we'll go on with production from other jobs while he's prepping that new piece of steel," Stirn adds, "Maybe it's end of the day and they can't get it out that day, but Diehl will have it ready for us by 8 or 9 [o'clock] the next morning."
Rapid turnaround
Diehl Steel rolled out its Diehl Express service earlier this year. With this service, Accu-Square tool steel orders placed by noon Eastern time are shipped the same day at no additional cost. Diehl stocks popular grades as well as a wide variety of precut sizes to act as a fast resource to almost any customer.
Diehl's Accu-Square cut tool steel is a service Batesville, which does its milling and squaring in-house, has used for odd sizes. For example, there was an odd size requirement, consisting of two large pieces of steel but needing a thinner gauge than is typical. "We didn't have access to do that, to do it right like we wanted to. We were very pleased with [what Diehl provided]," says Walsman.
With its trademarked Accu-Square process, Diehl Steel can square metal block to toolmaker tolerances, reducing or eliminating the need for further squaring of the blocks. The distributor and processor focuses on serving the rapid turnaround needs of the tool and die, mold shop, machine shop, and OEM industries, typically shipping in-stock items in 24 to 48 hours. FFJ
Jeffry Caudill is the president of Gingerquill Inc., based in Cincinnati.