In the ever-changing mix of global economics, it's time to reevaluate the benefits of local production
October 2013 - Reshoring—the return of offshored manufacturing—has been steadily gaining momentum, reversing the decades long trend of companies sending manufacturing overseas with a herd-like mentality. In recent months, media, government and industry are demonstrating a strong commitment to support American manufacturing and reindustrialization. Companies, consumers and the government alike are recognizing not only the economic feasibility of making things competitively in the U.S., but also the importance of local manufacturing in the holistic cycle of production, innovation, R&D and intellectual property protection.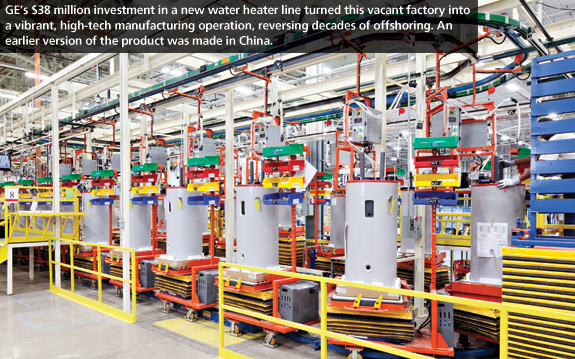 Simply stated, local manufacturing improves product development and process control, increasing companies' competitiveness. A strong manufacturing base also contributes to the country's economic stability, adding both direct and indirect jobs. Perhaps most important, the visible, strong beginning of the reshoring trend is helping to attract recruits to manufacturing skills training programs in order to create the professional skilled workforce that is necessary to make all of the above possible.
It's an exciting time for the rebounding U.S. industrial base. Since the end of 2012 we have heard about plans by electronics giants Lenovo, Apple and Motorola to move some production back to the U.S., and of Walmart's commitment to spend an additional $50 billion on U.S.-made products over the next decade. Over the past few years the transportation equipment industry has been in the process of transplanting or reshoring an enormous amount of production, with Austal

USA, Tesla, Ford, Honda, Nissan, Toyota, Rolls-Royce, Chrysler and Yamaha all expanding production in the U.S., reporting more than 22,450 new jobs. Transplants respond to the same logic as reshoring: the economic benefit of producing near the consumer. Taking a longer-term perspective, transplants are reshoring because they are satisfying market segments that had been supplied domestically decades ago. Large corporations are joining small and medium sized manufacturers in making substantial and well-publicized efforts to bring production back. These are just the latest contributions to the approximately 80,000 manufacturing jobs that have been added as a result of reshoring—and many more if all transplants are included—in the last three and a half years.
Reshoring in the metal industries
In 2009 the North American Die Casting Association reported reshoring was happening for three main reasons: concerns about part quality, customer-supplier proximity and overseas logistics, citing situations such as this: "One company has talked to us about bringing some parts back—particularly plated or painted parts ... Poor packaging results in parts getting damaged during shipment." Many more reasons continue to present themselves in favor of producing close to home: availability of cheaper energy in the U.S., and continued political and environmental unrest abroad causing supply chain disruption, to name but two. Table 1 shows the distribution of reasons (costs) that motivated published cases of reshoring.
Table 2 provides a sampling of reshoring companies. In some cases OEMs are bringing production back directly in-house; in others OEMs are shifting sourcing from offshore to domestic contract manufacturers. In addition to those listed, other companies that have reshored include Siemens, Outdoor Great Room, Leviton Network Solutions, United Technologies and Wrigley Co.
There are many signs that the economic logic of local sourcing versus offshoring is penetrating the consciousness of the business world and consumers. In January, the Reshoring Initiative won a debate in The Economist, supporting the notion that multinational corporations have an obligation to maintain a strong presence in their country of origin. This was a noteworthy achievement because the majority of Economist readers (the voters) traditionally support laissez-faire free markets. They prefer 100 percent current period profit maximization versus longer-range thinking that more fully recognizes corporate costs and risks and considers the value of a strong society to the corporation and its shareholders. Voters, and especially the manufacturing community, stepped up and made it clear that investing and producing at home is a priority and is the choice that most benefits shareholders, companies and country alike.
Consumer preference is another indicator of bolstered support for U.S. manufacturing. Boston Consulting Group recently released two survey reports pointing to a strong and growing consumer preference for "Made in USA" products, and to a marketing advantage for brands with the Made in USA label. BCG reports, "More than 80 percent of U.S. consumers stated that they are willing to pay more for products labeled 'Made in USA' than for those labeled 'Made in China.'" Concerns about quality and a desire to keep jobs in the U.S. were the key drivers.

Consumer and industrial electronics have been hit even harder by offshoring than has fabricating. Nevertheless, Zentech, an electronics manufacturing services company, reshored more than $1 million in manufacturing in 2012 with plans to reshore even more in 2013. Since the move, "Zentech is experiencing growth in all industry sectors and continues to see opportunities in the area of reshoring," says company president Matt Turpin. "CEOs and CFOs are realizing that total cost of ownership for offshore manufactured goods is rising even faster than per-unit costs for the same items. Many of our customers have the ability to utilize offshore EMS providers but fortunately understand the TCO implications and choose to work with us." Since focusing on reshoring, Zentech experienced a 50 percent growth in its customer base in 2012, and is forecast to increase revenues by as much again in 2013.
Reshoring is based on the economic logic of producing near the customer. This logic applies to all manufacturing companies in their own facility siting and sourcing decisions and in their domestic sales efforts versus offshore competitors. As companies adopt a more comprehensive total cost analysis, they are finding that rising offshore labor rates (going up by 18 percent a year in China, 500 percent in the last 12 years) often are combined with other hidden costs of offshoring to counterbalance any remaining savings from cheap price or labor abroad. One example of a hidden cost: the millions of counterfeit and scrap electronic components from China getting into U.S. military and other systems. Reshoring more parts reduces this problem and increases the quality and safety of U.S. products.
Deciding what and when
The key to successful reshoring is for companies to use a comprehensive total cost of ownership (TCO) analysis that calculates the true cost of offshoring. The nonprofit Reshoring Initiative provides free TCO Estimator software on its website, www.reshorenow.org. Also on the website is a database of 425 reshoring articles and a case studies feature where companies can share their real cases of reshoring.
The impact of using TCO analysis instead of price for sourcing decisions is demonstrated by a statistical analysis of user TCO calculations. Table 3 aggregates the results for 27 recent cases in which users of the method had compared sourcing in China versus the United States.
Using a TCO metric instead of relying simply on ex-works price changes the sourcing decision in 41 percent of the 27 cases studied. Because the database is small, we conservatively estimate that about 25 percent of the work that has already been offshored to China would return to the United States if companies used TCO instead of price to make sourcing decisions. Ongoing research will refine that estimate.
Based on analysis of the articles in the Reshoring Library, the Initiative calculates that about 80,000 manufacturing jobs have been reshored in the last 3.5 years. That surge represents about 10 percent to 15 percent of the total increase in manufacturing jobs since the low in January 2010. At the same time, however, offshoring continues but has slowed dramatically from five or 10 years ago.
If universal use of TCO is paired with other possible trend factors, the potential for reshored jobs is estimated at up to 6 million.
As we can see from this analysis, the potential is great for the American economy, workforce and individual companies.
TCO analysis helps to objectively identify, forecast and minimize total cost, accounting for factors like rising costs of wages and currencies and energy and transportation prices. Other factors, such as the risk of supply chain shocks and disruptions caused by natural disasters and political instability, also are entered into the TCO calculation.
How to calculate TCO
To determine the TCO with the TCO Estimator, the user provides 36 answers that are used to calculate 29 per unit costs. The Estimator is very user friendly: create an account, enter the values for your company (all company data is 100 percent confidential) and receive a report. The whole input process takes approximately 20 minutes, although gathering data will take longer. But if you do not have the data, how have you been making accurate decisions?
The Estimator accumulates a single cost value for a product sourced from a particular supplier. The user repeats the process for each supplier, and can then objectively compare the TCO for the same product from multiple suppliers, whether local or offshore. The Estimator begins with hard cash costs and progresses to more subjective measures. A general guide to costs addressed in TCO is provided at the left. For a full description of TCO cost factors, go to www.reshorenow.org. Once there, select TCO Estimator, create a login, select Add a New Form and View Example Form.
When it becomes clear that there is often not a TCO penalty associated with domestic sourcing, it is easier for a company to place more emphasis and resources on building strategies such as product differentiation or product innovation, both of which are maximized via local sourcing. A company might pursue local cost-reduction programs, such as lean, theory of constraints, design for manufacture and assembly, quick response manufacturing, automation or training that might have seemed insufficient to close a 40 percent price gap but are more than able to close a 10 percent TCO gap.
When companies understand their total cost of ownership, they offshore less and reshore more. Individual companies, educational institutions, Wall Street and consumers are increasingly embracing reshoring. In early 2012 the White House hosted the "Insourcing Forum" highlighting the Reshoring Initiative in the lineup. In his 2012 State of the Union, President Obama predicted a manufacturing revolution, and laid out a plan to improve our workforce to support such a revolution including providing funding to education and industry clusters committed to supplying modern, streamlined training programs.
The Reshoring Initiative met with the U.S. Department of Labor on Sept. 18, 2012, to discuss how to develop the needed workforce. Part of the solution is to provide better Bureau of Labor Statistics data showing the comparatively high-income of those workers passing apprenticeships and earning certificates, compared to four-year college grads. The BLS accepted our suggestion, has changed its website and is surveying to obtain the incomes of workers who passed apprenticeships. Demonstrating that reshoring is happening will also motivate students to seek manufacturing training and schools to provide the training.
What you can do
Manufacturing in the U.S. can now be a viable and economical choice. TCO use is showing more companies that they can help both themselves and America by bringing production back. We encourage readers to use the Initiative's free tools to reduce costs, increase sales and report reshoring successes. Here are some ideas to facilitate reshoring while you help your company:
1. Use the free TCO Estimator for more objective sourcing decisions and as a sales tool to convince your customers to buy from you instead of offshore. Contact the Initiative for no-charge help if needed.
2. Take advantage of our webinars to educate your staff and customers. Archived webinars are always on the website. Upcoming live webinars are often also linked.
3. Submit your reshoring cases on the Reshoring Initiative's website, www.reshorenow.org. Select Resources followed by Submit a Case Study. The resulting PDFs can be posted on the websites of your company, your customers, and the Reshoring Initiative, to provide publicity. You also earn a cool T-shirt.
4. Check the searchable Reshoring Library to see if any of your customers or prospects are reshoring. Sell to them.
5. Post a link to the Reshoring Initiative website to help promote the trend.
Total cost analysis can help companies see the economic benefits of bringing offshored manufacturing back to the U.S. and limiting future offshoring. With current high freight costs, increasing Chinese wages, and a growing consumer sentiment for Made in America products, now is the right time to focus on rebuilding American manufacturing, and strengthening the metal fabricating industry. FFJ
Harry Moser is the founder and president of the Reshoring Initiative (www.reshorenow.org), where Millar Kelley is a research analyst. They can be contacted through the website or at harry.moser@reshorenow.org.